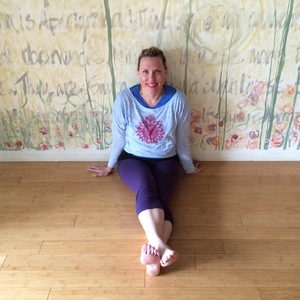 Elizabeth Woody is a Colorado native with deep family roots in Louisville, Colorado, where she grew up and lives today. She earned a Bachelor of Fine Arts degree in Painting from the University of Colorado at Denver and furthered her studies during two art residencies at the Vermont Studio Center. When painting, Elizabeth uses a fusion of artistic inspiration from her everyday life, from music, and from her travels. Art workshops have taken her across Western Europe and recently, she has been influenced by the little beach town of Santa Teresa, Costa Rica. Elizabeth is currently exploring a new passion, jewelry making, with the Boulder School of Metals. Her first artistic love is painting, though, and in every piece, one can see her passion for exploring both a virtual and an imagined world.
Her current series of work is called
The Wanderer/ The Traveler.
Photo taken at Yoga Junction in front of "The Story of Yoga" mural